BB & CC creams are all the rage now. If you still use regular foundation people look at you like "Ha...you don't use a (insert BB/CC) cream?! That's so bad for you...". While that is not necessarily true, there are definitely some benefits to using them. Here are my thoughts on the various creams vs foundation.
Tinted Moisturizers: These are exactly what they sound like; moisturizers with a bit of color. Usually they provide very little coverage and they're best for applying underneath foundation if you want to give your skin a bit of color. Most have SPF and they do everything a moisturizer is supposed to do; hydrate, prevent-aging, rejuvenate skin etc.
My favorite is the Laura Mercier Tinted Moisturizer. I love her primers, they're phenomenal so I decided to try out her Tinted Moisturizer and I love it! It's lightweight and not too greasy and you get a nice, even tone from it with a bit of color.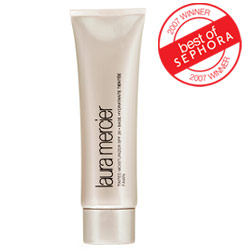 BB Cream (Beauty Balm Cream): BB Creams are essentially tinted moisturizers with better ingredients for your skin. They usually have some level of SPF, anti-oxidants, extra hydrating ingredients, and more coverage than a tinted moisturizer. They're a great alternative to tinted moisturizers if you want something more in-between a foundation and a moisturizer.
I personally love Urban Decay's Naked Skin Beauty Balm as it provides just enough coverage for days when I don't want to go all out with my makeup, but still want something on my skin. It's also super light-weight so you barely feel as though you're wearing any makeup. It has SPF 20 in it so you don't really need to wear sunscreen with it. The only negative is it doesn't come in any colors so it's really only for wearing underneath foundation or if you just want to even out your skin.
The other BB Cream I really like is Too Faced's Tinted Beauty Balm. This one I love because it offers all the benefits of the Naked Skin but it comes in 5 different colors so you can add a little extra color to your face if you like. This one is a little heavier than the Naked Skin and I personally think provides more coverage so I'll wear this on it's own.
CC Cream (Color Correcting Cream): The biggest difference between BB Creams and CC Creams is CC Creams are better for people with redness or uneven skin tones. CC creams tend to even out the skin's tone a little more and they're generally lighter than BB Creams. They usually feel more whipped or light weight than a BB Cream and as a product that came after the BB Creams, they usually try to one-up them in terms of what they offer. Generally CC Creams have SPF, hydrating ingredients, light diffusing particles, and more anti-oxidants than BB Creams.
My absolute favorite CC Cream is the Bobbi Brown CC Cream. I wear this stuff a ton in the summer as it's super lightweight but really evens out my skin tone. It provides just enough coverage and really gives your skin an almost diffused effect, making it great for pictures as well. I recently recommended this to one of my friends for her engagement photos and her skin looked radiant in them! It's really a phenomenal product!
DD Creams (Daily Defense): DD Creams were initially poised to be a BB/CC Cream hybrid for your body that you could apply all over your skin. There are also now more and more DD Creams for your face, each one using different terms for what the DD stands for e.g. Dynamic, Do-All, Dermatologist's Dream etc. These are generally a combination of the 2 previously mentioned creams, with even more anti-oxidants, more anti-aging ingredients, more everything. The ingredients/benefits of DD Creams vary depending on which one you purchase, but in general they're meant to have more benefits, while providing a higher level of coverage.
I personally haven't tried it yet but Julep's DD Creme is supposed to be phenomenal. The biggest benefit I've heard about this cream is that it provides all of the above-mentioned benefits and it works really well to prevent aging. I'll have to test it out and let you know!
Foundation: This one is pretty self explanatory. It provides way more coverage than BB or CC Creams and is generally used to cover any skin problems. Additionally, most BB and CC Creams come in very few colors, while foundations come in thousands of tones. I think if you're going out for the night or want something more heavy-duty, using a BB or CC Cream as a base/primer and then applying foundation over it is the way to go. Foundation just covers so much more than any BB or CC Cream ever could. Additionally, foundations are great because you can mix the colors to get the right shade for your skin tone and there are so many different formulas out there; liquid, powder, cream, mousse etc.
I have a whole article devoted to my favorite foundations so I won't go into detail here about my favorites, but I love foundations because there are always new products coming out and new ones to try!
Honestly, I think a BB, CC, DD etc. cream has a lot more to do with marketing and trying to introduce something new and exciting to the consumers than anything, but there are some definite benefits to them. The differences between all of them are so subtle and it really varies more-so on the brand than it being a "BB" or "CC" Cream. While I love the ones I mentioned, unless you're a huge tinted moisturizer fan for every day use or you despise foundation I wouldn't necessarily run out and purchase these. They're great for what they are and definitely fun to try but I think they're a bit hyped up. So for now I'd stick with your tried and tested foundation whatever that may be.
What do you guys think? Have you tried any BB, CC or DD creams that you can't live without?