We all love our high end makeup. It's often better in quality, has fancier packaging and you feel special walking to a Mac or a Sephora. That being said there are a ton of drugstore makeups that can offer just as good quality and give you the same effect with spending the $$$$$. Having lived off drugstore makeup until I was a young adult and able to actually afford the better stuff I've tested my fair share. I will say hands down, without a doubt Maybelline, no matter the product, is going to give you the best bang for your buck and they offer phenomenal products and shades. Even now I'll find myself reaching for their stuff over some of the higher end stuff. However, I didn't want to write an article all about Maybelline so I decided to share with you my favorite drug store products organized by category.
Best Kohl Eye Liner: Covergirl Perfect Blend Pencil $4.49
This product goes on really smoothly and creates a perfect line that's great for blending. It even comes with a handy little smudge brush at the end. This product stays in place all day and it has a few different colors so you can get a brown, a navy, a black, whatever suits you. At $4.49 it's definitely worth the purchase!
Comparison: Mac Kohl Eyeliner
Liquid Eyeliner: Maybelline Ultra Liner Waterproof Liquid Eyeliner $5.99
This one I love because not only it is extremely waterproof (I've gone swimming in this and it hasn't budged!) the brush is thin enough that it creates a really precise line. It comes in brown and black, so not too many choices but just enough for eyeliner. I love this stuff, I wore it in high school and still wear it to this day.
Comparison: Stila Stay All Day Waterproof Liner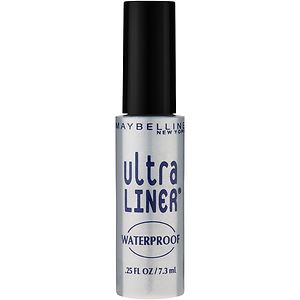 Gel Liner: Sonia Kashuk Dramatically Defining Long Wear Gel Liner $8.99
It's hard to find a good gel liner. A lot of them dry up or go on globby. I'm a die hard fan of the Mac version and wear it almost every day. This however is a great imitation. It also comes in brown and black so you have the choice if you don't want it to be too dark. The key to any gel liner is getting the right brush to apply it with. Without that don't bother buying this. Sonia Kashuk has a phenomenal line of brushes so I would check out what she has and get one of hers! This prodcut is only $8.99
Comparison: Mac Fluidline in Blacktrack
Mascara: L'Oreal Double Extend Beauty Tubes $8.50
Hands down the absolute best mascara are the ones that have the primer and mascara in one. I know Maybelline used to offer one but I don't think they do anymore. L'Oreal however does, and I've used it and it's phenomenal! It's the L'Oreal Double Extend Beauty Tubes. It comes in Black and Blackest Black ( I never really understand how much blacker that actually is but I digress). This tube is double sided so the one end has the white primer which primes your lashes giving the mascara something to stick to really helping to add incredible volume as you apply the black. I would never buy a drugstore mascara that was not this ever again.
Comparison: This is hard because I haven't come across a higher end product that offers a primer/mascara in one. I guess you could buy the Dior primer and the Dior mascara?
Eye Shadow: Almay Intense-I Bold Shadows $4.99
These I absolutely love because they a. come in three easy colors so you're never confused as to what to put where, b. they come for different eye colors. It says on the package which set would look best with your color eyes so you can really get something that's going to make your eyes pop! I love the purple one which is for brown eyes. The brown set is for blue eyes, the green set is for green eyes and the nudish set for hazel eyes. Additionally, these colors stay on and are really great quality! I really love the way they set up their shadows and I think they're so easy for on the run or for beginners or for someone who doesn't want to spend a lot of time mixing and watching.
Comparison: Naked Palette (although those don't specific what colors work well with what eye color)
FACE-
Foundation: L'Oreal True Match SuperBlend Liquid Makeup $6.64
I love this product because it comes in so many colors. There is literally a color for every skin tone you can imagine. I dislike the tube it comes in because I find I wish a lot not having a pump but it provides great coverage without being too greasy. It also lasts all day long. I definitely recommend this if you don't want to spend a ton of money on foundation but want a color that will actually make your skin. It's best applied with a makeup sponge or brush.
Comparison: Nars Sheer Glow Liquid Foundation
Highligher: Maybelline Instant Age Rewind Eraser Dark Circles Treatment Concealer $7.99
This stuff is phenomenal! It works just as well as the Mac highlighter but it's actually easier to apply because it has the build in sponge. It's so easy for throwing in your purse and touching up during the day. I love, love, love this stuff especially for when I want an under eye highlighter but don't have $20 to spend at Mac. Definitely worth the buy!
Comparison: Mac Prep + Prime Highlighter
Face Powder: Neutrogena Mineral Sheers Compact Powder Foundation $8.81
I love Neutrogena products because I always feel like I'm doing my skin a favor. Their stuff is always formatted for the most sensitive, allergic skin. This is a great pressed power that comes in a variety of colors for setting your liquid foundation. I absolutely love this stuff as my face feels clean and moisturized after applying it.
Comparison: Urban Decay De-Slick Powder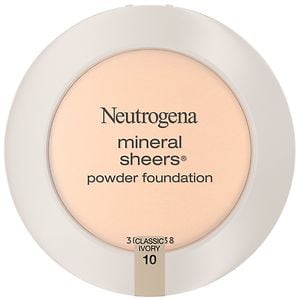 Concealer: Physicians Formula Twin Cream Concealer- Yellow/Light $6.49
This stuff I love because it comes with both a regular concealer color and a yellow color which is great for hiding dark spots under your eyes. There's nothing more annoying than caking on skin toned concealer only to find it doesn't work on your bags. That's why this product is great. You put a little yellow, cover it with the color and you're good to go!
Comparison: I honestly can't think of one that has 2 in one
Blush: Sonia Kashhuk Beautifying Blush $9.79
This stuff is amazing. It essentially is higher end quality. It has a gorgeous array of colors and it goes on extremely well without looking cheap or cheesy. It also last all day. Definitely recommend this!
Comparison: Any Mac blush
Bronzer: No7 Perfectly Bronzed Pearls $11.99
Before I became an Estee Lauder bronzer junkie I used to ride and die by this stuff. It is PHENOMENAL. It is probably my favorite item on the list. It works so well I can't even describe it. You need to use a brush with it but you'd apply it the same way you would any other bronzer. It doesn't have shimmer so you can use it to contour or you can place it on your face where the sun would hit. It's just such a great products! Run, don't walk, and buy it!
Comparison: Estee Lauder Bronze Goddess Bronzing Powder
Lip Liner: Prestige Cosmetics Lipliner- $4.29
This stuff is great. It comes in a variety of colors and stays on all day. I love mine and wear it at least 3 times a week. The quality is phenomenal and all around it's just a great product! I definitely recommend getting this!
Lipstick: Rimmel London Lasting Finish Lipstick- Kate Moss Collection $5.49
I loveeeee this read lipstick I got by her. It's so gorgeous, the color is a little more firey than other reds I own and it stays on so well. It looks great with any skin tone but especially with skin and blonde hair like mine. I would definitely buy this in a heart beat over some of the more unnecessary expensive brands. Great purchase!
What do you guys think? Do you have any favorites I haven't mentioned?