So, for those of you that don't know, Breast Cancer Awareness is something that is very near and dear to me. My mom currently has stage 4 Metastatic Breast Cancer. She caught it early at Stage 1, got treatment and it "went away". Then about a year and a half later it was back.

While it's phenomenal that we've reached the point where so many women are able to survive this horrible disease, I think we often overlook the women who are not. The women who don't pass the 5 year "survivor" mark. The women who catch it early and it comes back. The women who don't catch it early. For all those women, and for every woman who has been touched by breast cancer in some way or who is currently fighting/surviving breast cancer it's imperative that we keep up the fight!

I love October because companies really get behind the cause. Companies that don't donate year round make it a point to donate. It's a really important month for raising awareness and research funding. So, I decided to do some perusing and see what companies were offering special products with the proceeds going to a breast cancer charity. While I haven't had a chance to try all of them yet, I've definitely used this as an excuse to shop (because I need one). Here are my top 10 favorite products!



1. Evelyn Lauder and Elizabeth Hurley Dream Pink Collection: I love Estee Lauder because they always go all out in October and support breast cancer awareness year round. This year Evelyn Lauder and Elizabeth Hurley teamed up to create the 'Dream Pink Collection'. This collection comes with 2 nail polishes (Blushing Lilac & Berry Hot). There's also a gorgeous limited edition lipstick called 'Dream Pink'. And, of course, like any good Estee Lauder collection you get a cute little purse to go with it, this one is a super gorgeous, pink fold over clutch. For each purchase of the Evelyn Lauder and Elizabeth Hurley Dream Pink Collection, Estée Lauder will donate 20% of the suggested retail price to The Breast Cancer Research Foundation.. Buy here.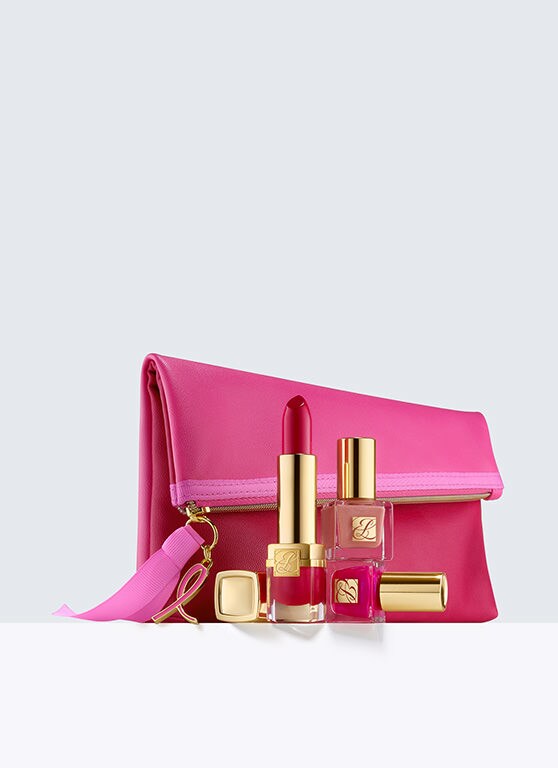 2. O.P.I Pink of Hearts: O.P.I came out with this gorgeous kit that has 2 polishes (Mod About You & a super cute glitter). It also comes with a cute glittery, pink nail file. It's perfect for creating a gorgeous look, or using separately and creating multiple looks. O.P.I. is donating $25,000 to the Susan G. Komen Foundation and $5,000 to Rethink Breast Cancer in Canada! I love the quality of O.P.I. polish so this is definitely worth getting! Buy it here.
3.
Essie Breast Cancer Awareness 2014 Collection: This collection comes with 3 super cute pink shades, 'Pinking About You', 'I Pink I Can' & 'Pink Happy'.
Essie will be donating a percentage of the collection's sales to
City of Hope
, a leading cancer research and treatment center recognized by the National Cancer Institute.
Buy it
here
.
4. Bobbi Brown Pretty Pink Ribbon Lip Gloss Collection: A super cute collection of Bobbi Brown lipglosses, ranging from a darker, more neutral pink to a bright bubble gum pink. Definitely worth investing in, you'll get a ton of wear out of each of the colors and the quality is really great. The brand will donate $12 from the purchase price of the lip gloss set to the Breast Cancer Research Foundation. Buy it here..
5. Tom Ford Beauty

:

Talk about awesome: In support of The Estee Lauder Companies' BCA Campaign, Tom Ford Beauty will donate $50,000 to BCRF in 2014 regardless of the purchase of any Tom Ford Beauty products. I think that is just so unbelievable. You can literally purchase ANY Tom Ford makeup product and they'll donate. I'm absolutely obssesed with Tom Ford's Lip Color in 'Flamingo'. Buy it here.
6. Sonia Kashuk Proudly Pink Five-Piece Purse Brush Set: Sonia Kashuk is a breast cancer survivor herself, so I'm sure this is a cause that is also very near and dear to her. She's come out with a line of 5 different makeup brushes and fifteen percent of the purchase price of this sleek brush set will benefit the Breast Cancer Research Foundation. Buy it here.
7.
Eo
s 3-Piece Breast Cancer Awareness Lip Balm & Lotion Gift Set:
This set has a berry blossom lotion, a
strawberry
lip balm and a
pomegranate
lip balm.
100 percent of the net profits will be donated to the breast cancer research department at the Memorial Sloan
Kettering Cancer Center (amazing!!!). Buy it
here
.
8. Bumble & bumble's Pre-a-Powder Dry Shampoo:

This is Bumble & Bumble' amazing dry shampoo/style extender. It's great for those days in between shampoos or for when you don't have enough time to wash and blow dry your hair. Just use a few spritzes of this and your hair will not only look refreshed but it will be more voluminous and easier to style than before! This also comes with a limited edition pink cap.

$5 of every sale will be donated to the The Breast Cancer Research Foundation. Buy it here.