In my younger days I would swipe the little brush/sponge thingy that comes with your drugstore eye shadow and that was the extent of my routine. In the years since I've learned that, almost more important than the actual makeup, are the tools you use. Naturally, the second I read that I ran to my nearest Mac store and purchased every brush they've ever made. While I don't recommend you doing this, as it is neither necessary, nor cost efficient, I will say that there are some staple brushes every girl should own.
1.) Eyeshadow Brush- Mac 239
This brush is really the only brush you need for a simple, every-day eye shadow. It's compact with semi-stiff bristles and it packs the color on really nicely. It's great for the lids and to highlight the brow bone. I think I own like 12 of these, they're really phenomenal and definitely worth the investment.
2.) Crease Brush- Mac 217
You will be hard pressed to watch a tutorial or have your makeup done without seeing one of these babies. This is the end-all-be-all brush for creases. It's stiff enough to pick up color so you can apply it to your crease and the outer corner of your lid, but it also is fluffy enough to blend out the color. It picks up more color than you'd think so it's best to layer as needed. I use this brush every day.
3.)
Angled Eyeliner Brush- Mac 266
This is one brush I would say you can find comparable alternatives to at any of the places I mentioned above and still get the same finished product. This brush is best for gel liners, or it can be used to apply a powder line, although I have another brush I prefer for this. It also works really nicely for filling in your brows.
This is the brush you should get over the angled one if you don't use a gel liner. This is better for smudging powder colors along the lash line. It's also great for adding a darker color in the crease and the outer corner as it gives you more precision than the 217.
4.) I have 3 options here depending on the type of foundation you're using.
a.) The first is the bareMinerals Precision Face Brush. This is perfect for pressed powders. It gives a very full coverage, more airbrushed look. I don't recommend it if you have oily skin, and I personally hate using it in the summer when I'm hot and gross and don't want a heavy face of makeup. It's great though for winter, or people with dryer skin who like to have a little more full coverage.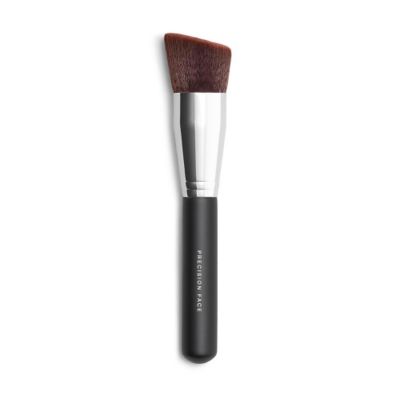 b.) The second option is the Mac 150 Powder Brush. This brush is great for applying loose powder and gives more of a natural, no-foundation look. I usually rock this in the summer or if I just want a more casual look without going foundation-less. It's also great for setting powders or anything else you want to apply all over.
Liquid Foundation- Mac 188 Duo Fiber Brush
This brush is perfect for applying liquid foundation. The fiber bristles pick up just enough foundation to give you an airbrushed look without being too heavy or thick. I also like using this to blend out my under eye concealer or to add a highlight on my cheek bones.
Creme or Mousse Foundation-
This sponge is awesome. It's perfect for picking up the right amount of foundation and the pointed tip is great for applying in harder to reach places like under your eyes or around the nose. You can also use this to apply your under-eye concealer if you want a fuller coverage there.
Blush-
5.) Mac 168 Angled Contour Brush
This is the perfect brush for applying blush. It's angled so it allows you to apply the blush just on your cheekbones and the apples of your cheek. However, this is one of the brushes I think you can find a less expensive alternative for.
6.) Bronzer/Contouring Brush- Mac 109 Small Contour Brush
This brush is great for contouring your cheekbones and slimming your face. I was using a different brush up until recently and switching to this brush changed my life. It's seriously amazing.
So those are my top 3 shadow and top 3 face brushes you should invest in. You don't necessarily need all so think about what you're trying to accomplish and get the ones you most need first. I would say contour and crease brush to start. You might be skeptical but you'll notice a huuuuge difference the first time you use them, and then you'll be hooked, like me and end up buying every brush ever available. So maybe don't use them...